Most Ontarians believe the Ford government's process for selecting lands from the Greenbelt to be developed was "corrupt," according to a new poll.
The poll, conducted exclusively for Village Media by Pallas Data, surveyed 940 voting-eligible adults in Ontario between Aug. 28–29 — after the auditor general released her scathing report and Housing Minister Steve Clark's then-chief of staff Ryan Amato resigned, but before the integrity commissioner found that Clark broke the law.
It found 47 per cent of respondents "strongly" agreed the process was corrupt and another nine per cent "somewhat" agreed. Only 23 per cent somewhat or strongly disagreed.
"Those are big numbers," Pallas Data CEO Joseph Angolano said.
The next election is three years away and trust levels for governments that win back-to-back majorities tend to stay pretty high, but if the scandal keeps dragging on, "this could be a real problem for the government," he said.
The Tories' handling of the controversy appears to have already hurt it with voters — even past PC loyalists, a plurality of whom say it's made them less likely to vote for the party.
Nearly half (49 per cent) of respondents said the decision to open parts of the Greenbelt to development made them less likely to vote for the PCs in the next election, including 39 per cent of past PC voters. Twenty-three per cent of previous PC voters said it made them more likely to vote for the party. For 35 per cent, it had no effect.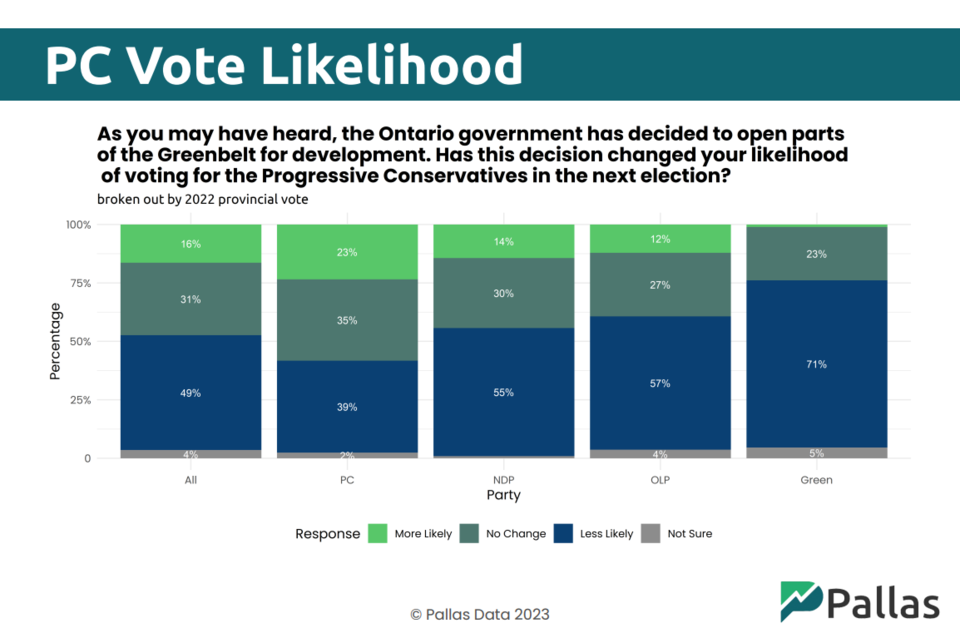 And almost three-quarters of respondents (73 per cent) — including 58 per cent of past PC voters — said the RCMP should investigate the land transfers. Only 29 per cent of PC voters said the RCMP should not investigate. The force is currently deciding whether or not to do so.
"I think this raises the temperature and heat on Premier Ford," said Myer Siemiatycki, a professor emeritus of politics at Toronto Metropolitan University, who viewed the poll results.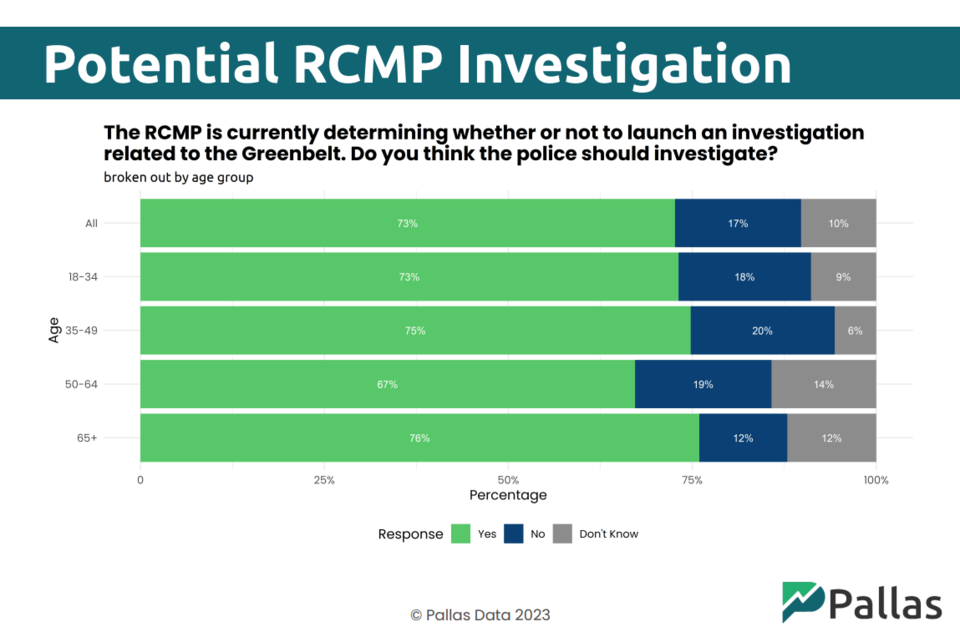 Still, a large majority of PC supporters agreed that parts of the Greenbelt should be opened up for housing development. Forty-eight per cent said some land, and 36 per cent said a lot of land should be unprotected.
Overall, though, 60 per cent of respondents said all the Greenbelt land should remain protected. One in five of all voters said some land, and 12 per cent said a lot of land should be made available for development.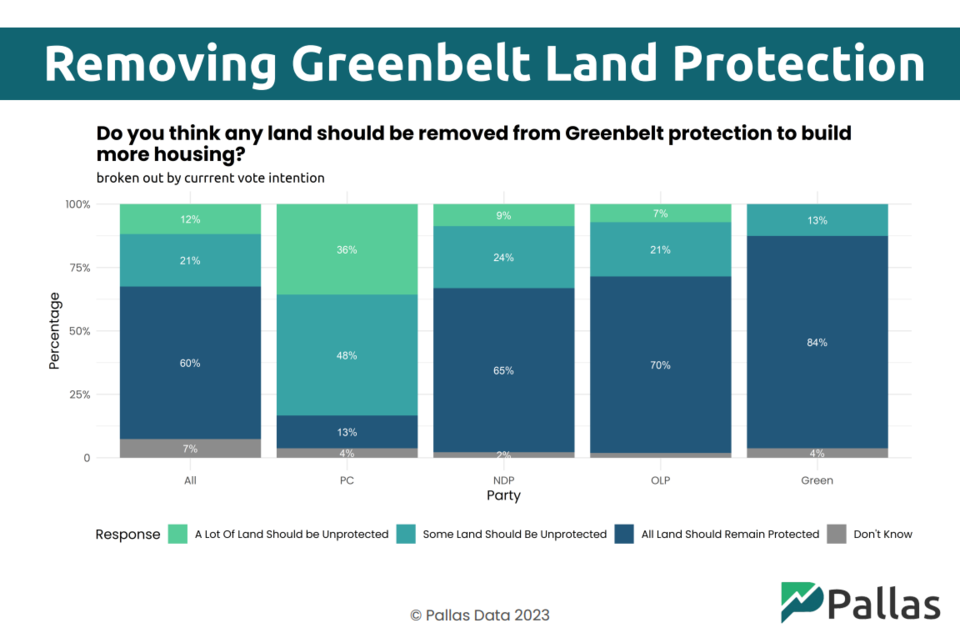 The government appears locked into a "no-blink agenda" — don't admit fault and it may blow over, Siemiatycki said.
"You would think sheer decency would require" Clark to resign or be removed, he said.
That doesn't appear to be on the table.
A frustrated Doug Ford held a press conference on Thursday in which he reiterated that there were problems with the process, but said it was necessary to open parts of the Greenbelt to build more housing. He said again that he would not remove Clark from cabinet.
Clark followed with his own availability at Queen's Park, where he apologized to Ontarians but said he would not step down.
This government has got away with other scandals, like thousands of seniors dying in underprepared nursing homes during the COVID-19 pandemic, Siemiatycki said.
"You can get away with some pretty big boo-boos, apparently, and get reelected in Ontario."
The poll also finds the PCs remain in the lead: 37 per cent of decided and leaning voters would choose Ford's PCs in an election, compared to 27 per cent for the Liberals, 26 per cent for the NDP and 5 per cent for the Greens.
The Pallas Data poll was conducted on behalf of Village Media from Aug. 28-29, 2023 among a sample of 940 adults, 18 years of age or older, living in Ontario and
eligible to vote in provincial elections using Interactive Voice Recording technology (IVR) on landlines and cellular phones. The margin of error for the poll is +/-3.2% at the 95% confidence level, but margins of error are higher in each subsample.