A former chief of staff to Ontario Housing Minister Steve Clark has suddenly parted ways with an influential lobby group for the residential construction industry.
The Ontario Home Builders' Association (OHBA) told its members on Tuesday that Luca Bucci is no longer its CEO, effective that same day.
"I am reaching out to advise that Luca Bucci (CEO) is no longer with the Ontario Home Builders' Association, effective today, August 1, 2023," OHBA president Louie Zagordo wrote in a letter to its members. He did not give a reason for Bucci's departure.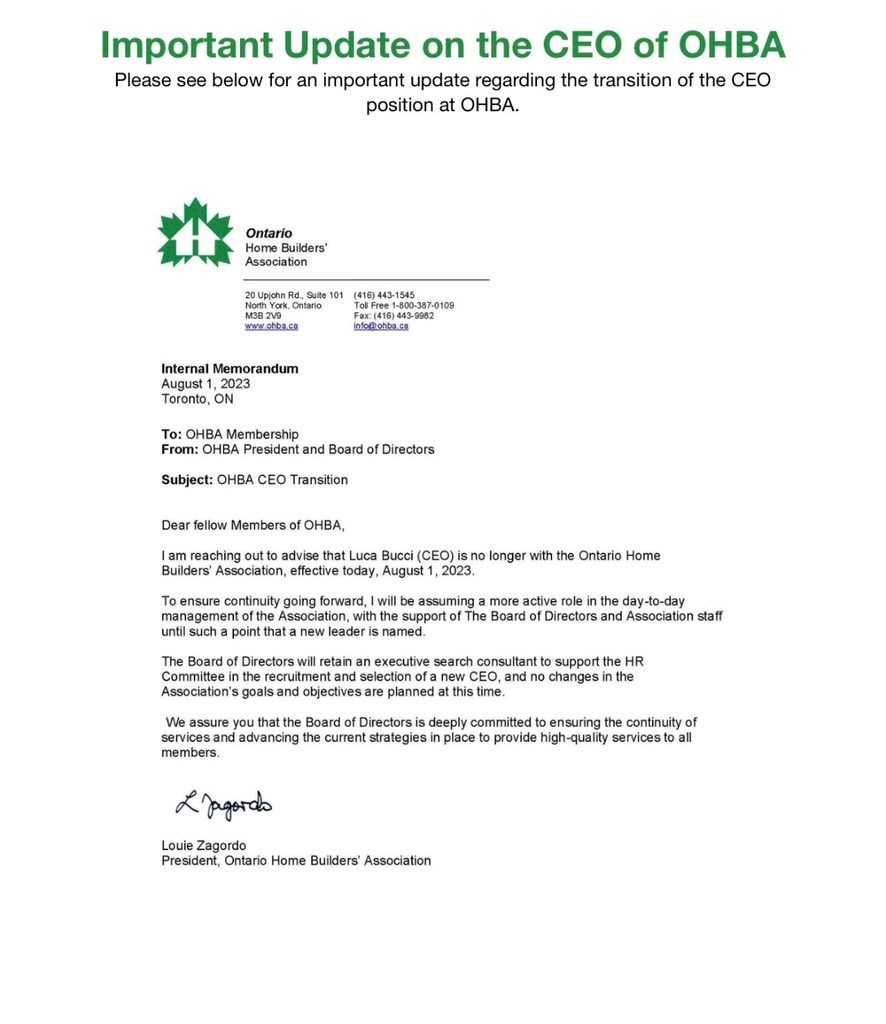 Zagordo said the OHBA's board would retain an executive search consultant to replace the CEO.
Bucci has spent much of the last decade working in Conservative politics and was Clark's chief of staff from January 2021 to April 2022.
His move to the OHBA in June of that year prompted the leader of the Official Opposition to allege in an affidavit submitted to the province's integrity commissioner last December that she believes he engaged in illegal lobbying.
NDP leader Marit Stiles' complaint alleged that he lobbied his former employer on behalf of the OHBA before a required one-year cooling-off period was completed.
Stiles' complaint mainly concerned the government's decision to open parts of the Greenbelt to developers. In it, she associated Bucci with a particular parcel of land in King Township that was sold less than two months before the government's Greenbelt announcement.
Stiles said the land was sold by a company whose principal was president of the Ontario Home Builders' Association at the time of the sale, and noted Bucci was CEO at the time.
The OHBA has not addressed the allegations directly but said, "We respect the Office of the Integrity Commissioner and will co-operate with any investigation as required."
The integrity commissioner launched an investigation into Clark on the basis of Stiles' complaint.
Auditor General Bonnie Lysyk has also launched an investigation into the opening of Greenbelt land to development. Lysyk has said she expects to complete her audit before the end of her term on Sept. 3.
Neither the integrity commissioner nor the auditor general comment on their findings while their investigations are ongoing.
Bucci celebrated his success as CEO of the OHBA in a speech last spring, where he took credit for the OHBA's role in crafting development-friendly policies, including helping the government "create and implement" the housing legislation it passed in November, Bill 23, the More Homes Built Faster Act.
Editor's note: This story was updated on Aug. 2, 2023 at 12:05 p.m. to include a letter that OHBA president Louie Zagordo sent to the association's members, which The Trillium obtained.